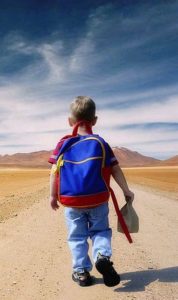 For most of the children, first day at preschool is like a nightmare. Because for the first time they will have been away from their parents for long hours. They need more individual handling by substitute if the mother must leave. Dealing them the correct approach will allow both children and parents to feel comfortable with the transition into preschool. Ultimately, parents need to be patient until the child gets adjusted.
Not just any place will do. A good group is not ready to find, nor is it cheap to afford. By all means visit every school you are considering, watch from all perspectives including the parent's feedback.
Tips to parents for first day of preschool
Below are the some tips for you to deal your kid first day preschool
Pay close attention to the Body needs
Parenting experts suggest to parents that "Adequate sleep, water and healthy food most important. Due to tight schedule, some parents are busy getting ready their kids and completely ignores their kid's body needs. Observe your kids and take care of hungry or thirsty, they tend to get cranky if they don't have better sleep, snack or drink."
Plan much early and avoid rush
Instead of rushing in the morning, plan a day early to pack snacks and clothes. Explain and show your kid what the color of snack box, water bottle is. This helps your kid to avoid confusion during snacks and lunch time.
Get on Schedule
Train you kid wake-up early in the morning time the week before. Set alarm for when your kid will need to wake up. Give sufficient time for brushing, toilet and bathing. Your need to adjust bedtime  earlier as well.
Keep your emotions under control
Have a big smile in your face. You may be highly emotional inside in your heart, but never show this to your child. Your child can pick up things easily. They can sense your voice and facial changes. So send out good vibes to your kid. Take care of your tone, and be confident.
Familiarize the school to your kid
Take your kid to the preschool before the first day. Get your child familiar with the place, class room, teachers, and caretakers in the preschool. Attend special events that the school is organizing or schedule a play date with a fellow student who lives nearby.
Arrive early
Arrive early to preschool and speak with class teachers and allow your child familiarize with teachers. Get adjusted with the room when it's still calm and quiet.
Allow your kid to bring along his favourite toy
Kids are comfortable with their favourite toys like stuffed animal. So that the child doesn't feel scary in new place. Talk to the school people if kids are allowed to bring their toys to school.
In Summary
Generally, children take time to get used to play school. Prepare the child well in advance, instead of sending him one fine day without the child's knowledge.
Some vigorous, outgoing children latch on to school the first day and love every moment thereafter. Not all are so eager to take on new days however and need a more cautious introduction.
Plan to visit the school together staying only an hour or so. Be prepared to accompany your child for a week or more. You and the teacher can plan the next steps.
When the child is ready to stay without you, say good-bye casually, and tell him when you will be back, this will definitely pay.
Some children want their mother around, and cry at her departure, having their father take such children to school may eliminate their conflict.
Even after an unhurried and careful introduction, if your child still fusses about going to school or seems unusually tired as he/she comes home, something else needs to be done.
Arrange a meeting with the teacher perhaps you will decide to withdraw the child until he is a little older. It may be that he should be in a smaller and simpler group.
No matter what, children will ultimately get used the school environment and will enjoy it. Playing with other kids and toys improves sensor and creative experience. 
First Day of School Sayings and Quotes
"Waking your kids up for school the first day after a break is almost as much fun as birthing them was". – Jenny McCarthy
The most important day of a person's education is the first day of school, not Graduation Day. – Harry Wong
Sending your child off to school for the first time in their life is terrifying. – Arabella Weir
I felt abandoned – watching my mum leave me with strangers. I'll never forget that feeling. Then I had very happy years at school. – Claire Sweeney
Today is the first day of the rest of your life.     Charles Dederich
I wish school was always as laid back as the first day of school is – unknown
I felt like the first day of school or someting. My heart was beating a litttle faster, my anticipation was building up. It was like the first day of school when you go to kindergaten or something. – Carlos Boozer
You're off to great to great places. Today is your first day! Your mountain is waiting, so get on your way! – Dr. Seuss
I've always loved the first day of school better than the last day of school. Firsts are best because they are beginnings. – Jenny Han
On the first day of a college you will worry about how will you do inside the college and at the last day of a college you will wonder what will you do outside the college – Amit Kalantri
First day of school! Wake up! Come on. First day of school. – Finding Nemo
Describing her first day back in grade school after a long absence, a teacher said, It was like trying to hold 35 corks under water at the same time. – Mark Twain
Learn as much as you can while you are young, since life becomes too busy later. – Dana Stewart Scott
Education is our passport to the future, for tomorrow belongs to the people who prepare for it today. – Malcolm X
Why do people cry on the last day of school? You should be crying on the first day of school. – unknown
What we want is to see the child in pursuit of knowledge, and not knowledge in pursuit of the child. – George Bernard Shaw
What makes a child gifted and talented may not always be good grades in school, but a different way of looking at the world and learning. – Chuck Grassley
The first day of school – The day when the countdown to the last day of the school begins. – unknown
That awkward moment on the first day of school when you'll go in front of the class and introduce yourself. – unknown
You learn something every day if you pay attention. – Ray LeBlond