Fighting gives them to learn self defense
This is part of your child's quarrels may teach him a bit about the virtues of self-control and teach the child how to live with other people without giving up too much what he is and wants.
It is not usual for your child to get into quarrels with other children. Small storms frequently occur when children play/ battle are apt to be intense, wild and brief.
Children lose their tempers easily
6 to 12 year old are apt to lose their tempers easily.
And the younger they are, the more this is likely to be true temper holding and quarrel setting by reasonable conversation are slowly acquired arts.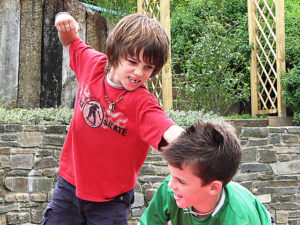 Your child will probably grew in this ability over the year he will develop it partly through natural growth and partly by experience.
Children who fight too much
Some youngsters seem to get into a fight almost every day they play with other children.
Kids in fact, declare war at the drop of marble or jump rope. They seem to be looking for trouble and have no trouble in finding it.
Some quarrelsome youngsters, on the other hand are reacting to too much strict discipline without outlets for their emotions.
This is especially true if they are punished often severely and especially if this punishment is the off-again variety.
Some children react to this punishment by coming confused and angry. An angry child may look for a chance to punish other youngsters.
Keeping angry feelings under control is harder for some people than for others.
If your child has many violent quarrels at home, school, and in the neighborhood and if he shows little or no improvement in this matter, it may be wise to get the help of child guidance specialist.
Fighting clubs
One such clubhouse bore a somewhat wobbly sign, boldly painted with a skull and crossbones and this inscription; friendship club.
When your youngster comes racing into the house. Allow with the excitement of our gang has club, you will know he has reached another mile –post on his journey toward becoming an adult.
You may be invited to come to see the marvelous hideout which the club members are building. It probably won't like very much to you. But it seems splendid to him.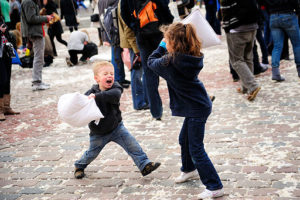 Keep out despite the fact these clubs can get to a nuisance absorbing your child's time interests, and your household equipment you will want to give him freedom to be an active member he is. He is learning many lessons in how to take part in group life.
Since your young citizen still is inexperienced, you should naturally keep ears and eyes open as to what the club is up to. As in all areas of parenthood freedom within limits is the motto to remember.
Importance of self control
Children like this may have learned for too little about the importance of self control.
If you have a chronic fighter in your family, it is possible you have been a little too easy going and letting him express his feelings.
Perhaps he might benefit from firmer discipline. Now that he is getting older, he may need somewhat higher standards of peaceable behavior set for him.